Highly performant, easy to use, minimalistic digital metronome desktop app.
Current version 1.0.60 released at February 24, 2021
SCREENSHOTS
---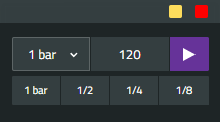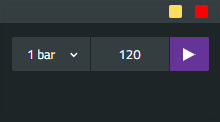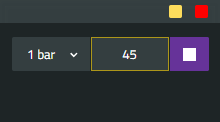 FEATURES
---
Minimalistic
The UI is designed in a way to avoid a lot of labels, avoid clutter and to allow you to focus on whats really important:- "creating".
Emphasized
Beats are subdivided into accented and regular to emphasize different patterns.
Intuitive
The tempo input supports different ways of interactions; you can use click, drag, scroll or just enter the tempo with your keyboard.
Performant
The timer engine is implemented in a highly performant way to ensure a great experience, not causing any lags even when working with multiple apps.
CURRENT
---
dark theme
basic subdivisions
windows support
titlebar v1 design
subdivisions v1 design
tempo input v1 design
stability improvements
primary clicker (ableton sounds)
autoupdate support
UPCOMING
---
light theme
more OS's support
change time signatures
click sounds picker
volume controller
beat indicator
tap tempo detection
support additional subdivisions
preset tempos indicator